Garden Pest Control
Northern Beaches
Our garden pest control services
Whilst pests in the garden are part of life, there are steps we can take to minimise their negative effects on your garden and the people that enjoy them with our garden pest control services.
At CC&M Landscapes, we offer garden pest control services to keep discomfort caused by garden pests to a minimum. Either as a standalone service or as a part of our maintenance program.
Through our combination of natural methods and chemical sprays, we have a solution which addresses most garden pests found on Sydney's Northern Beaches.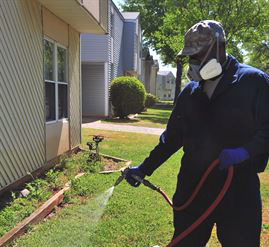 How we combat garden pests
There are a number of methods we use with our garden pest control services. With our method of treatment dependant on which pests we need to target.
Considering the garden
We always start with ensuring your garden is clean and tidy. An unkempt garden is the perfect home for all manner of pests including snakes, ants and mosquitoes.
Ensuring plants have optimal growing conditions (pH regulated soil,  adquate water, no weeds and regular fertilising). Stressed and underwatered plants will encourage pests to attack them.
Looking at removing sources of standing water will aid in discouraging mosquitoes to breed.
Plants and garden beds which sit directly against the external walls of the home can encourage ants to invade the home.
Garden pest sprays
Depending on the pests you are looking to target, CC&M Landscapes might use garden pest sprays to minimise a pest population.
Barriers
CC&M Landscapes can install netting barriers to protect your fruit trees from pests such as possums and bats.
Ensuring your safety during our garden pest control services
When it comes to our garden pest control services, CC&M Landscapes understand the risks associated with using chemical garden sprays.
For this reason, we always consult our clients to advise how we can minimise risk to property, people, pets and the environment.
Steps to take include:
Only spraying on low-wind days to stop chemicals from being spread to other ecosystems
Advising neighbours when we plan on conducting a garden pest control spray
Looking at alternatives to spraying (such as removing standing water and cleaning up the garden)
Spraying when no one is at home to reduce risks to humans and pets