Garden Maintenance
Northern Beaches
Creating year-round garden joy
At CC&M Landscapes, our core service is regular garden maintenance in Northern Beaches. Our dedicated team of garden maintenance specialists will ensure you have a beautiful garden all year long.
For many homeowners, regular maintenance of gardens can be an extremely time-consuming job. And if not done right, can leave a lot to be desired. At CC&M Landscapes, we're passionate about creating and maintaining pristine gardens and outdoor areas.
Speak to us today about how we can maintain your garden with a number of our custom garden services.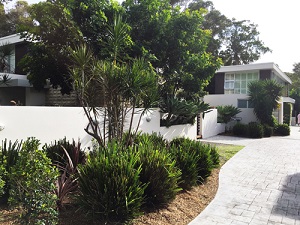 Our regular service inclusions
At CC&M Landscapes, we take care of all aspects of garden maintenance. During our initial consultant, will discuss your unique requirements, however a general guide is:
Regular attendance of one of our expert garden maintenance specialists, based on your preferred schedule (fortnightly, monthly, or custom period)
Weed control through hand-removal, spraying and/or both
Pruning and shaping of trees, shrubs and hedges
Irrigation system maintenance
Mowing and edging of lawns
Site tidy up including sweeping, blowing pathways, driveways and car parks (for more see Grounds Maintenance)
Pest and disease control (for more see Garden Pest Control)
Fertilising of gardens and lawns
All garden rubbish removal including branches, lawn clippings and weeds
Garden maintenance programs for Homeowners
As a homeowner on Sydney's Northern Beaches, you're lucky to be able to enjoy some of Australia's best natural features, including gardens.
Our regular residential garden maintenance clients turn to us to ensure their outdoor spaces are kept in pristine condition.
This allows homeowners to always be able to enjoy their beautiful outdoor spaces alone or with guests, at any time of the year.
Caring for your investment property
CC&M Landscapes are trusted by landlords, real estate agents and property managers to protect important commercial assets.
An investment property can be a rewarding experience, but only if managed and cared for correctly.  Our expert team of garden maintenance specialists take away the stress by ensuring the gardens of your investment property are properly maintained.
Maintaining strata communities
One of the biggest appeals of strata living for owners, tenants and investors is the maintained common garden areas.
Unfortunately, many maintenance companies don't take the time to ensure these common areas look their best. This leaves residents unhappy and strata managers and Owners' Corporations with a problem.
CC&M Landscapes treat strata communities as they would a private garden – by providing consistent and quality garden maintenance services. We understand what strata communities expect, and deliver this all year round.